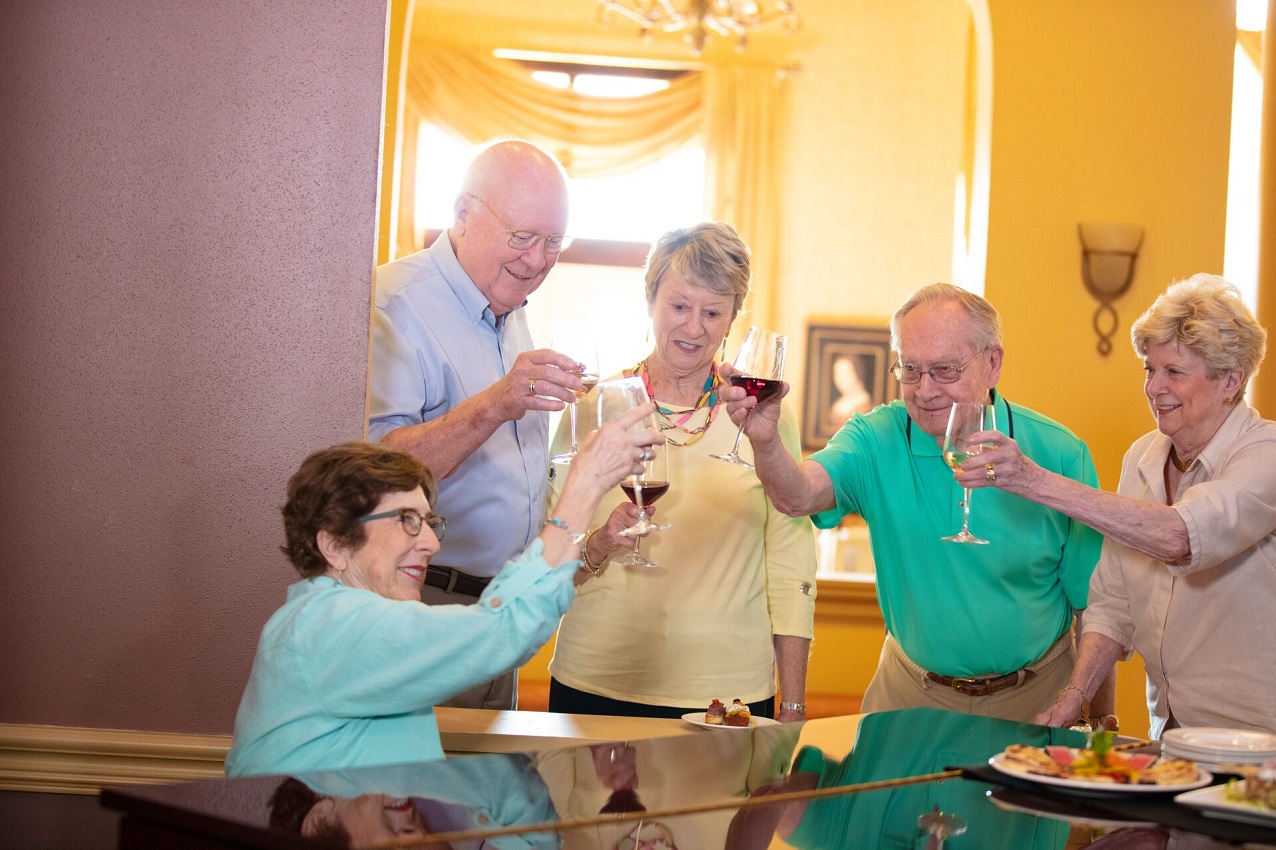 Is Aging in Place, at Home, the Right Choice for Later?
What is aging in place?
Aging in place describes the choice a person makes to stay in their current home as they grow older. We all want to remain at home as long as we can, and this is borne out by statistics from an AARP study. Only about 5% of older adults ages 50+ moved in a given year, and when they did, they did so for self-directed reasons: a desire for a new or better home, or because of a new job. The study found that when people ages 75+ moved, they did it because of their health, as well as convenience to friends and relatives.
Aging in place: common concerns
Staying in the familiar surroundings of our home seems ideal for the sense of control it gives us, and it can be a safe and productive way to live. But it comes with caveats. Even the healthiest and most active of older adults will face some challenges to their quality of life due to aging. For that reason, many seniors choose to move to independent living in a community like Santa Marta, so they're assured of the right support if there's a change to their health or independence.
Most of us live in homes that may not be suitable for our needs in our 70s, 80s or 90s. Stairs become increasingly difficult to climb, or unsafe to descend. Rooms may have cabinets too high to get to without a stepstool. Bathrooms and kitchens may need to be modified to prevent the risk of falls. Homes and yards require regular maintenance. Making home modifications or hiring services to take care of household chores may not always be practical or affordable.  
Another concern about aging in place, at home, can be the lack of social interaction. Loneliness and isolation is often an issue for single or widowed seniors, or after friends and family move away. Social interaction is essential to our emotional and mental well-being, and it suffers when we're disconnected from the world beyond our door, especially if driving and transportation become an issue. In fact, a study shows that seniors living in an assisted living community went out more than those living at home.
Something else to think about is who would make decisions for you if you're not able to. Everyone is very different in their lifestyle preferences and future needs. There's often conflict between older adults and family members who don't agree on how they're  preparing to age. How would you feel if someone made a health decision on your behalf? Would you end up in a place where you'd be happy? Putting a plan in place while you're independent and healthy allows you to control your quality of life in a manner of your choosing.  
Aging in place: Is it right for you?
It's not easy to know how to plan ahead. The desire to age in place is highly emotional, and some seniors feel hesitations about moving because of misconceptions about senior living. But by taking into account the practical, social and emotional aspects of ageing well, you can be more objective. Although it's impossible to plan for every unknown — because we'll never know how our lives might change — here are some questions to help you evaluate what your future needs could be:   
Are you finding it harder to keep up with home maintenance tasks such as housekeeping, yardwork, and seasonal activities like shoveling snow? Are there rooms in your house you never use? This is often a sign that it's time to downsize.

Do you need to modify your home to allow you, a spouse or other family member to continue to live there? This might include a ramp to the front door, grab bars in the shower or bathtub, non-skid flooring or sturdier stair rails.

What kinds of help might you want in the future? If you live alone, is there a relative or someone else nearby who is available to help you? If you don't need help now, but live with a spouse or family member who does, do you have the support you need? The beauty of a community like Santa Marta is that you never need to move elsewhere to get the help you might need. Read more about our health services. 

Do you have ties to the community nearby? Are family members and friends nearby? Are there people around you who inspire and uplift you? Are you bored at home, or are you

taking part in social and recreational activities

that interest you?

Are activities of daily living such as bathing, cooking, and housecleaning getting harder to do? Do you forget to take your medicine? Hiring a trained aide to provide assisted care for personal tasks such as bathing, dressing and medication reminders is expensive, can you afford it?

Do you get regular visitors? Do you have opportunities to see friends and meet new people? You

won't feel isolated

in Santa Marta's

Catholic-sponsored community

. People of all faiths, backgrounds, and cultures are welcome in our warm and inclusive environment.

Are you still eating nutritious meals? Are you tired of eating alone? Eating with others allows you to enjoy other people's company and socialize,

making meals much more meaningful

. Do you have regular opportunities to dine with others and enjoy your food?

Is it getting harder for you to get around? Are you still able to drive or get a ride to run errands or make your doctor appointments? If not, is there reliable transportation where you live that's easy to use?

Do you have trouble walking? Are you affected by medication or a medical condition that puts you at greater risk of a fall? What safety measures do you have in place if you do fall?

Wellness is about more than physical health

and regular exercise. Do you have someone to talk to when you're feeling low? Can you go somewhere where you know your spirits will be lifted and you'll feel better? At Santa Marta, you can benefit from a

holistic wellness approach

specifically for

older adults

.

Do you worry about paying bills late or forgetting to pay a bill? Is health insurance confusing? Do you have a family member or trusted financial advisor who can help with your finances?

Seniors

living alone are vulnerable to financial scams, both in person  and online.
Aging in place – or aging in the right place?
You may feel strongly about aging in place. However, you haven't come this far in life by blindly accepting the status quo. To age successfully you need to be proactive, and make decisions based on self-knowledge, acceptance, and a willingness to change.
While you're evaluating future options, we invite you to include Santa Marta in your research, and consider reading what other residents say.  We offer a luxurious lifestyle for active older adults who want to stay independent longer, with more time for themselves and the ones they love. Best of all, we offer a plan called Life Care. You're assured a worry-free future when it comes to health, because we provide high-quality health care services such as assisted living, memory care and other short-and long-term skilled nursing care plans, right here on our campus. We'd be delighted to give you a tour of our beautiful campus and answer your questions. Contact us today to set up your personal appointment.