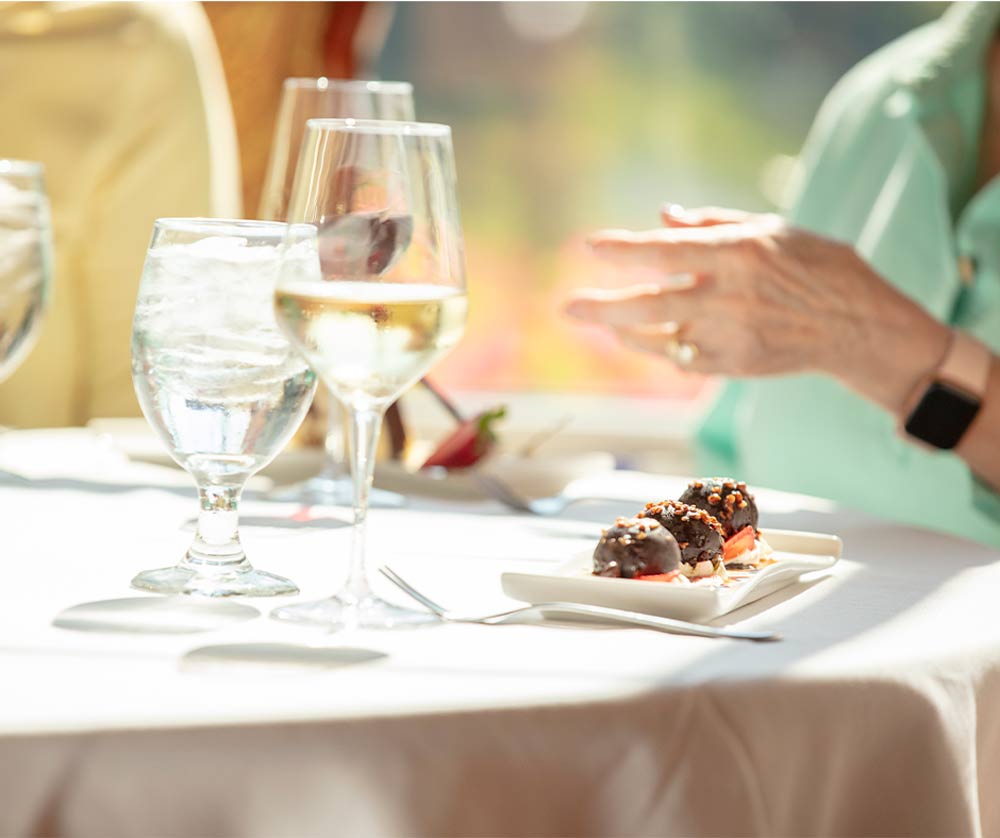 What Does Luxury Senior Living Mean?
Resort-Style Retirement
As baby boomers retire, they're demanding a higher standard in retirement communities. Services and amenities have evolved and improved to create a specialty class of retirement communities: luxury senior living. Within a resort-like campus, the staff caters to Residents' needs, and every care is taken to promote fun, health and fulfillment.
What Is Luxury Senior Living?
Luxury senior living is the choice of retirees who want a high-end community lifestyle they can enjoy while they're still active. Continuing care retirement communities allow older adults to move into independent living, leave behind home maintenance responsibilities, enjoy plentiful resort-style activities and amenities, and maintain predictable monthly expenses even when their health care needs advance. This means modern seniors who choose luxury retirement communities only have to move once.
Residents can rightsize into an apartment-style residence if they choose or move into their own free-standing villa. Either way, they have access to the life-enhancing services and amenities throughout the campus. The all-inclusive lifestyle begins before they even move in. A moving coordinator will help facilitate the move from start to finish, so the new Resident can immediately begin enjoying their new community.
Services in High-End Senior Living
Refined Hospitality:
Once Residents are living on the campus, the VIP services only grow. Professional and friendly concierges can help with scheduling appointments, receiving packages and, of course, welcoming and directing guests. Regular housekeeping keeps the whole community spotless, and maintenance staff can help with any home repairs that may arise, so Residents don't have to worry. The grounds are also thoughtfully designed and meticulously maintained.
Delicious Dining:
One of the most valued services in resort-style senior living is high-quality dining. A professional chef creates dishes that Residents look forward to, offering comfort food as well as healthy innovations. Residents can choose to eat with friends in a restaurant-style setting or have a quiet meal in their private residence. For seniors who love to host parties or need to hold meetings, private dining rooms can be reserved upon request.
Holistic Wellness:
Resort-style wellness offerings are designed to keep Residents healthier and more independent longer. An on-site fitness center, group exercise classes with trained instructors, and a heated indoor pool help Residents build strength and flexibility. Seniors in luxury retirement communities enjoy healthy and fun exercise even when the weather outside is snowy or slick. Beyond just physical health, communities also foster other aspects of wellness with social activities, religious/spiritual services, volunteer opportunities, and continuing education courses and lectures.
Convenient Transportation:
Residents are welcome to bring their cars to a resort-style senior living community, but regular transportation is also provided for shopping trips and cultural outings. There's even a chauffeur service to off-site doctor appointments. And high-end senior living often includes a beauty salon and barbershop, as well as a well-stocked library within the community, cutting down on necessary errands.
The Big Picture
Older adults in luxury senior living communities are rarely looking to "slow down." An all-inclusive lifestyle in a beautiful setting means they're choosing a life with all the comfort they're used to, as well as new opportunities to create fulfilling days with fewer responsibilities. This new generation of seniors wants to continue to grow and develop, travel and develop new friendships. And they can do all of it confidently. By choosing a continuing care retirement community, they know that if they ever need it, they have priority access to higher levels of care with minimal disruption to their lifestyle or to their monthly expenses.
If you'd like to know more about high-end senior living in Olathe, KS, let us know. We'd be happy to answer any questions you have or give you a personal tour of Santa Marta, so you can see it for yourself.